About us
Penta Maritime Agencies Ltd was found in 1998 and primarly operates as official COSCO agent in Latvia.
Penta specializes in seafreight services, as well as provides a full range of value added services to satisfy every one of its customers' cargo transportation needs. Our team comprises of high profile experienced professionals along with young and motivated specialists.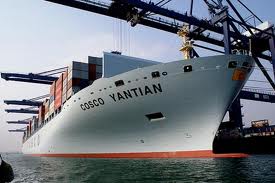 COSCO
Founded in 1961, COSCO Group has grown up into one of world's leading companies in container transportation, bulk and general cargo transportation. Now the group owns and operates more than 600 ocean-going vessels, including container vessels, bulk carriers, general cargo ships, tankers, LPG vessels, refrigerated cargo ships, timber vessels and passenger/cargo ships amounting to 20 million dwt.
COSCO Group ships call at 1200 ports in 150 countries around the world. The volume of annual sea-borne traffic amounts to more than 100 million ton.
The founding of COSCO Container Lines, COSCON, in 1993 marked a new phase of COSCO Group's container transportation and established the due status of COSCO Group in the international shipping industry which is characterized by ever faster development of international trade and ever acute competition.
COSCON's container fleet counts more than 145 ships with a carrying capacity of 500,000 TEU. In addition to the Shanghai head office it has regional headquarters in Germany, USA, Republic of South Africa, United Arab Emirates, Hongkong, Japan, Korea and Australia that manage and administrate COSCON's business worldwide